JOYA® apple and cinnamon flapjacks
These yummy flapjacks will become your new best friend! They're suited for your lunchbox, picnic and they are perfect for a road trip-snack – ideal for any summers day!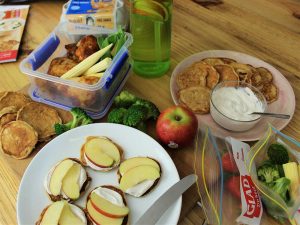 Serves:
24 - 30 flapjacks
Ingredients:
500 ml (280 g) cake flour
15 ml (1 tbsp) baking powder
2 ml salt
10 ml (2 tsp) ground cinnamon
2 extra large eggs
500 ml (2 cups) buttermilk
2 JOYA® apples with the skin, coarsley grated
60 ml (¼ cup) butter, melted
sunflower or avocado oil for frying
Method:
1. Sieve dry ingredients into a mixing bowl. Beat eggs and buttermilk together. Make a well in the centre of the flour mixture.
2. Beat the egg mixture into the flour mixture to form a smooth batter. Stir in the apples, but take care not to overmix it, as it will make the mixture heavy. Stir in butter.
3. Heat a thin layer of oil over a medium heat in a frying pan. Spoon 30-50 ml batter per flapjack into the pan.
4. Fry until bubbles form on top and carefully turn flapjacks with an egg lifter. Fry for a few minutes on the other side until golden brown. Keep flapjacks warm while frying the rest. Add a little more oil to the pan if necessary, avoid overheating the pan to prevent the flapjacks from burning.
5. Serve with cream cheese, seasoned with honey and cinnamon and more apple slices if preferred.
Download Recipe
Created by: